Five years ago, I was at my job's holiday party, and I leaned over to my co-worker and asked her, "Hey, who celebrates Kwanzaa anyway?" She turned around, shrugged her shoulders and responded:" I don't know-Jewish people."
Here we are two Black girls, one African-American, the other Haitian-American, ignorant about the only holiday that brings us together based on our African culture. Growing up, I knew of Kwanzaa, I learned about the principles in school, and I knew it came the day after Christmas. However, I never really celebrated it or conceptualized who or why it was celebrated. Granted, I was on the Step-Team in HS and we'd put together Kwanzaa Showcases every year- yet, everyone around me still had no clue as to what Kwanzaa is really about.
Over the past couple of years, I have been refining my African Culture. I identify as Black, African, and American. It defines my race (as it's described in America), my heritage, and my nationality. Historically, the "American Negro," didn't have an identity in this country. Activist, and educators such as Marcus Garvey, Malcolm X, and W.E.B Du Boise (to name a few), helped to push the Pan-Africanism movement forward. They believed in the solidarity between all people of African descent, including the Caribbean and in Latin America. And that unity is vital to economic, social, and political progress. Kwanzaa reinforces this belief.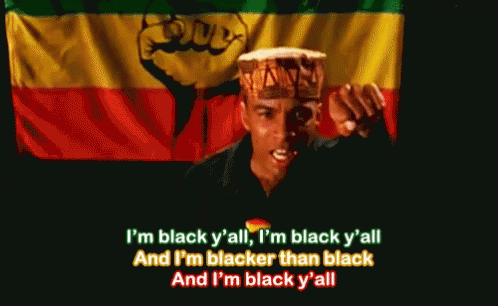 Kwanzaa was created by Dr. Maulana "Ron" Karenga, a professor of Black Studies, in 1966. It is not a religious holiday, nor is it meant to replace Christmas (Cuz We know how much Black people LOOOOVE Christmas!). Dr. Karenga established Kwanzaa to help African descendants worldwide reconnect with their African cultural and historical heritage. Through the "Nguzo Saba," the "seven principles of African Heritage," a communitarian African philosophy, we unite in meditation and study of African traditions. The name Kwanzaa is a Swahili word for "the first fruits of the harvest." Swahili was chosen because it is a non-tribal African language which encompasses a large portion of the African continent. It is observed from Dec 26th through Jan 1ST. The principles go as follows:
Umoja (Unity): To Strive for and maintain unity in the family, community, nation, and our heritage.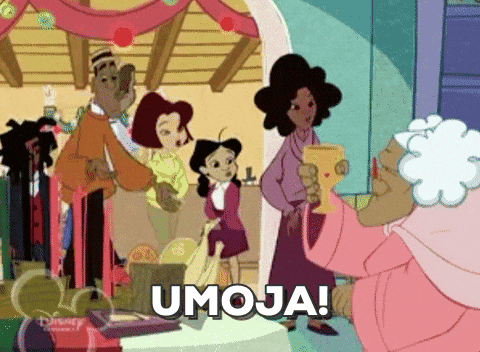 Kujichagulia (Self-Determination): To define ourselves, create for ourselves, and speak for ourselves.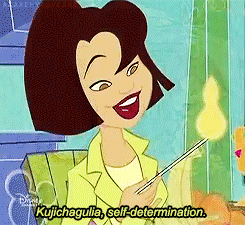 Ujima (Collective Work and Responsibility): To build and maintain our community together and make our sisters' and brothers' problems our problems and to solve them together.
Ujamaa (Cooperative Economics): To build and maintain our own stores, shops and other businesses and to profit from them together. Support Black Owned Businesses!
Nia (Purpose): To make our collective vocation the building and development of our community in order to restore our people to their traditional greatness
Kuumba (Creativity): My Favorite Principle! To always do as much as we can, in the way that we can, in order to leave our community more beautiful and beneficial than we inherited it.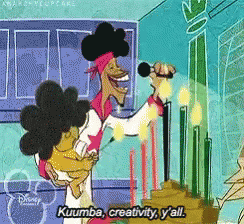 Imani (Faith): To believe with all our heart in our parents, our people, our teachers, our leaders, and the righteousness and victory of our struggle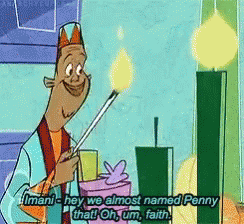 Kwanzaa has seven basic symbols and two supplemental ones. Each represents values and concepts reflective of African culture and contributive to community building and reinforcement. The basic symbols in Swahili and then in English are:
Mazao (The Crops)These are symbolic of African harvest celebrations and of the rewards of productive and collective labor.
Mkeka (The Mat)This is symbolic of our tradition and history and therefore, the foundation on which we build.
Kinara (The Candle Holder)This is symbolic of our roots, our parent people — continental Africans.
Muhindi (The Corn) This is symbolic of our children and our future which they embody.
Mishumaa Saba (The Seven Candles) These are symbolic of the Nguzo Saba, the Seven Principles, the matrix and minimum set of values which African people are urged to live by in order to rescue and reconstruct their lives in their own image and according to their own needs.
Kikombe cha Umoja (The Unity Cup) This is symbolic of the foundational principle and practice of unity which makes all else possible.
Zawadi (The Gifts) These are symbolic of the labor and love of parents and the commitments made and kept by the children.
The two supplemental symbols are:
Bendera (The Flag) The colors of the Kwanzaa flag are the colors of the Organization Us, black, red and green; black for the people, red for their struggle, and green for the future and hope that comes from their struggle. It is based on the colors given by the Hon. Marcus Garvey as national colors for African people throughout the world.
Nguzo Saba Poster (Poster of The Seven Principles)
Don't Know Where to purchase Kwanzaa Symbols? If you're in the New York City Area, check out "The Cultural One-Stop-Shop," Nicholas Variety shop in Brooklyn and in Harlem. Don't want to go to the store? Check out these Black Owned Online Markets selling Kwanzaa Symbols and Kinara Sets:
https://www.africanheritagecollection.com/
http://www.sankorepress.com/kwanzaa-shop1.html
https://www.etsy.com/market/kwanzaa
So, now that we got that out of the way-How do you actually celebrate?
It is important to note the placement of the candles. The black candle is always placed in the center of the Kinara. Red candles are always placed to the left of the black candle and the green candles are always placed to the right of the black candle.
Day 1: Light the black candle in the center of the Kinara on the Dec 26th for Umoja
Day 2: Light the red candle on the first left of the black candle, on Dec 27th for Kujichagulia
Day 3: Light the green candle on the first right of the black candle, on Dec 28th for Ujima
Day 4: Light the red candle on the second left of the black candle, on Dec 29th for Ujamaa
Day 5: Light the green candle on the second right of the black candle, on Dec 30th for Nia
Day 6: Light the red candle on the third left of the black candle, on Dec 31st for Kuumba
Day 7: Light the green candle on the third right of the black candle, on Jan 1st for Imani
December 2017 was the first time I celebrated Kwanzaa at home with my family. I was introducing Kwanzaa as a new holiday tradition and had to teach myself and my family how to celebrate it. With the help of some friends and the internet, I learned that Kwanzaa can be modified and celebrated however you see fit. While, of course staying true to the symbols and the spirit of the holiday. Because it's celebrated 7 days straight, I knew my family members will only be together on a few of the days. I requested for everyone to be available the first night of Kwanzaa so that we can light the first candle together. I also printed out a Nguzo Saba guide to help us keep up with the principles and to practice Kwanzaa greetings.
Starting Dec 26 everyone greets each other by saying "Habari Gani?" which is a standard Swahili greeting meaning "what is the news?" If someone greets you, respond with the principle (Nguzo Saba) for that day.
Me: "Habari Gani?" Them: "Umoja!"
* Non-African-Americans are also welcome to participate in greetings. The traditional greeting for them is "Joyous Kwanzaa."
Heri Za Kwanzaa- Happy Kwanzaa!
Some activities throughout the seven days include drumming and musical selections, readings of the African Pledge and the Principles of Blackness, reflections on the Pan-African colors, discussions of African Principles of the day, recitations of chapters in African History, and artistic performance. You can pick and choose all or some activities.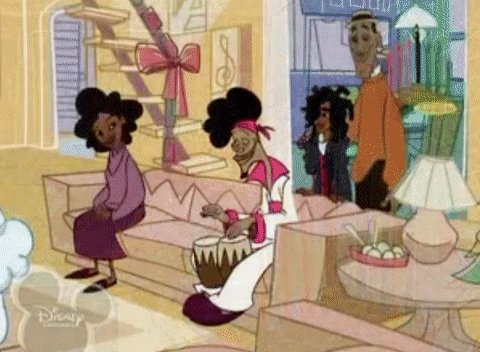 The Kwanzaa feast is a very special event that brings everyone closer to their African roots. It is traditionally held on December 31st and is a communal and cooperative effort. Decorate the place where the feast will be held in a red, green, and black scheme. A large Kwanzaa setting should dominate the room where the feast will be held. A large Mkeka should be placed in the center of the floor where the food is placed creatively and made accessible to all to serve themselves. Before and during the feast, an informative and entertaining program should be presented. Traditionally, the program should involve welcoming, remembering, reassessment, recommitment and rejoicing concluded by a farewell statement and a call for greater unity. During the feast, drinks are to be shared from a communal cup, the Kikombe cha Umoja, passed around to all celebrants. Gifts of Kuumba are creative gifts exchange and should be artistic and educational in nature. They are usually given on the last day or can be given on each day to reflect each principle.
Last year, we held our Kwanzaa feast on Dec 26th. We ate leftover Christmas dinner, and afterward, we gathered around the Kinara to share what Unity means to us as a family unit, and as Black People. My dad started and took the first sip out the Unity Cup, as the oldest in our home, he represented the elders in our family. My mom, myself, and brother followed after and my baby sister took the last sip, to represent the youth and the children in our family. I poured libation to give thanks to our ancestors. We drank grape juice. This can be done with any beverage and if you're weird about sharing your cups and utensils-this can be altered as a toast with everyone lifting a glass.
Each day I lit a candle and tried to do something that represented the principle of the day. I found that these principles can be applied to my lifestyle and that Kwanzaa can be celebrated every day of the year! It was intimidating to me at first because there was so much history that I didn't know. It caused me to do some research, but also made me appreciate Black culture even more. If you're new to Kwanzaa, welcome! The best way to learn is to just celebrate it and you'll begin to make your own Kwanzaa traditions.
This year, my parents moved to North Carolina, so I'll be celebrating by myself. However, I'm not alone. If you're looking for ways to celebrate with others here are some cool events happening in New York City, including a modern twist of the holiday- A Kwanzaa Crawl to Black-owned restaurants and bars around the city!
Kwanzaa Celebrations in New York Metro Area
Apollo Theatre Kwanzaa Celebration
Heri Za Kwanzaa my beautiful Black People! Share how you'll be celebrating in the comments below!